Reproduction of double-eared standing bottle with flowers and birds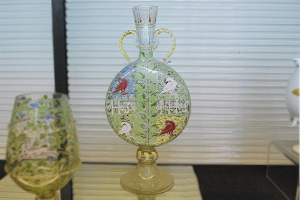 \250,000
Original production period: end of the 15th century - beginning of the 16th century
Place of origin: Murano Glass Museum (Italy)
Height: 26cm
Width: 14cm
Produced in Barcelona, Spain.
A symmetrical leaf design divides the vase into left and right halves, while a lettered design separates the top and bottom halves, for a total of four separate images.
The letters "I H S" have been monogrammed in white enamel across the center. This represents Jesus Christ, and has been said to be an erroneous transcription from Greek to Latin letters.