Crimson platter with flowers and butterflies(N Bragadin work)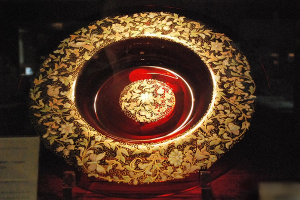 \800,000
Original production period: 20th century
Width: 35cm
When N. Bragadin found this glass piece in an antique shop, it had unfortunately been damaged.
Falling in love with the design, she requested the plate, and supplemented the broken area with her own design.
This crimson plate became the final work of the 84-year-old Bragadin, and she put her heart and soul into it.